Project Description

Rain Partner/Sponsor ID #175386
Member Since October 2014
Rain Partner/Sponsor ID #175386
Member Since October 2014
Certified Qi Gong Practitioner For The Last 12 Years
Successful coaching & training of Professional Athletes and Olympic Athletes
12 years Experience in the Evaluation and Development of "Core" and "Functional" Training Programs for the Physically Challenged.
Trainer of an Elite U.S. Special Forces Team Headed by Sgt Bobbie Butler based at Ford Ord, Ca. 1991
Developed Urban Survival class for Boy's at Rancho San Antonio "Boys Town" of the West in Chatsworth, California. 1991
Vitamix Educator, Demonstrator and Food Healing Specialist
32 Years of "in the trenches" experience and still learning!
What Does Leadership Mean to You?
I believe leadership is a process, not a position. Before you can lead others, you must first lead yourself. If you are interested in becoming a better team leader or successful mentor then dive into our programs and resources here on this site and our RAIN training site. Whether you're a veteran partner or an emerging leader we've got specialized training just for you.
Let me add this…the first thing I'd encourage you to do if you want to to be successful in your RAIN career. Do what's asked of you. Meet expectations. Hit the target. That alone will make you stand out.
But I believe there's a higher goal than just doing "the business." Instead of just meeting expectations, you can make it your goal to exceed them. That's where the joy is. And it's where lasting impact can be found
What Makes You Laugh?
Did you know that you take in 3 times more oxygen when you laugh? So laughing actually is a Very Healing and Healthy activity!  So, my other half Aimee can always makes me laugh..She is so funny and makes me laugh pretty much anytime she feels like it. I like Steve Harvey (He takes SOUL by the way) Steve is a funny guy! There are some great actors who have made me laugh over the years as well.. Caddy Shack, The Mask, Pink Panther Movies,(yes I am dating myself here) Robin Hood men in tights, old Monty Python Shows and Benny Hill.
When is the Last Time You Were Embarrassed?
(What happened? How did you handle the situation?)
Ok, I thought about this and said no way Ingo no one wants to know this.. so here is the short version. I was singing and leading a worship service at the HOP (now the Ventura Vinyard) and after the service someone came up to me and said Ingo I don't want to embarrass you but I think you should know, your zipper was down the entire service!" Seriously, I said! I just started to laugh historically! I leaned in to him and said "well now I know why peoples eyes were closed so much!"
How Do You Have Fun?
I love to riding a wave runners on a hot day on any lake that is flat as a pancake! ALso, hopping on a mountain bike in Lake Tahoe was and still is one of my fav's. So many awesome trails, views,  and wildlife to take in all summer long and then I like to snow ski in the winters,  I have a passion to sing and play the guitar, mostly worship music, but I can bang out a few bars of John Mayer once in a while.. Lastly, I am spontaneous! Will pick up a go at a drop of the hat.. the Zoo, Vegas,I love a good Cirque du Soleil shows. wine country, a good concert or just a picnic in the the park… How do you like  to have fun?
What are Two\Personal Habits That Have Served You Well?
Morning T, G, and G (coming Soon )
What Aspect of Your RAIN Business are you Passionate About?
I'm really passionate about seeing and hearing about the changes in peoples health and wealth frequencies if that makes sense. When they have a testimony, start sharing that with others, loose weight, have more energy, when dis- ease in their bodies is on the mend, or they are earning an extra $500 a week.. that's what gets me up out of bed and passionately sharing RAIN products everyday.
Who Inspires You? Why?
My mom and my aunt Dee have inspired me to aim for my goals, work hard at it, and achieve. Mom did not have much education growing up, but later on in life she was college bound and attended Glendale college with an aspiration to become better at her job (working for the Walt Disney family as their private secratary) There at the community college she attended school to sharpen her computer skills, (she had none) worked exceedingly hard to attend after hours and take other classes so she could continue to be an asset to and for the family. She retired with honors so to say after working almost 30 years. Now thats inspiration…
When you're young you are told that anything is possible if you set your mind to it, or at least that's what my mom would always tell me. But as you mature and become more sophisticated, you realize that you are in fact limited to specific opportunities based on the direction you chose to take, and the decisions you make. I personally believe that not everyone can be successful in achieving their goals, but that everyone is given the opportunity and for me it's how hard I chose to work on achieving my goals, and how important it is to me to succeed.
1. Ingo is Here Today Because of His Grandfather Who Escaped 7 Russian Prison Camps
In the book titled the 7th Escape, by Jan Doward, Walter Loge' overcame incredible odds to journey back to Berlin, find his family, and then eventually bring them to the United States. It was March 17th, St. Patrick's Day when Ingo's family they in New York.
The Seventh Escape is just an amazing book (see it here!) Well of course Ingo would say that since Ingo's the stories lead characters grandson, one of 3 grandchildren to be exact. This is a story about a very pleasant and gentle man, with an almost childlike faith in the goodness of divinity and in the innate decency of men,
Walter Logé owned nerves of steel, lightning fast wits, and an incredible determination to escape and somehow cover the many hundreds of miles across the reaches of the Ukraine and Poland westward to Berlin, where his beloved wife Irma and 2 children awaited him if they were even still alive.
This is not just another war story, or merely another chapter in the long bitter story of a man's inhumanity to man. Neither is it told to work off a grudge. It is not simply a dreary chronicle of misery and brutality, nor is it written to remind us that war brings suffering to the innocent and arouses the worst of human passions, but the book is written to encourage, to hang in , not to give up… and in the end succeed.
It's a document of human freedom and brotherhood, it is a more than a book, it is an "experience" to follow Ingo's grandfather Walter Logé on his desperate, but at times humorous flight from degradation and slavery. It is a heartwarming adventure of the human spirit.
"Thank you (Opa) for being a man who was always cheerful…I am here today because of your sacrifice and courage and on this occasion, what would be your 100th birthday on April 23, 2011, you are missed and thought of often… I was only 7 or 8 when you told this story to Jan Doward, but I remember it like it was yesterday. So in loving memory of a true hero, my hero and friend, I write this review… Thank you, you will never be forgotten for what you did! Escape 7 times and live to tell about it" Ingo
2. Ingo Sang In-Front of 60.000 People
From 1993 -1998 Ingo was involved in a movement known as The Promise Keepers. Ingo shared his new passion for music by singing and speaking at local PK gatherings and at the large stadium events. In 1996 He brought actor Gary Busey and 7 of his other friends to the LA Colosseum PK event. Gary came forward with Ingo by his side when the alter call was given on Friday night which was caught on tape and that landed them both on the CBS eleven o'clock news that night. This was the new beginning Gary was looking for. God used Ingo to bring Gary to the PK event that evening in LA and the rest is history as they say. See his story and comments here
"I remember growing up very prejudice and very dogmatic about religion. the PK events themselves were not "religious" but they were definitely very "spiritual" and had a profound influence on my life! There's not enough room here for all the stories and deep inner healing that has occurred in my life because of the promises we had to learn how to keep. But, what a journey it was and still is to this day.
I once personally interacted with the founder of PK, Coach Bill McCartney at an event in 1993 when he made his way through the crowd of 1000′s of guys to light my candle (that is a story in itself) but that experience forever changed my life. So, thank you coach for following your passion so I could find mine." As some of you who know me can attest. I spent 10 years serving in the ministry with my voice and guitar and it all started because I Attended a Promise Keepers event.
3. Ingo Loved Going to Disneyland For Free, Here's Why
Each year on his birthday, Ingo could invite 4 or his class mates at Glendale Academy to go to Disneyland at now charge, And how was that possible you might ask?Well, Ingo's mom (Ursie) worked for RETLAW, that's Walter spelled backwards, as in Walter Disney. Ursie did not get the chance to go to high school when she arrived in America yet she was able to get a job when she moved to California in the early 1960′s through a temp agency at a company WED Enterprises, which stood for Walter E. Disney, which would later be renamed RETLAW.
Ursie had strong work ethic, coupled with a survival mode desire to support her young son she eventually impressed the right people (the Disney Family) and was hired full time as the families personal secretary. She then worked her way up, while attending night school and other certifications. Ursie worked for the Disney's family for nearly 30 years.Growing up around the Disney culture allowed Ingo and his friends to attend movies before they came out, experience amazing employee Christmas parties at the Disney studios in Burbank, California.
Attend concerts at the Hollywood Bowl, as well as symphonies and plays at the Music Center Pavilion inn Downtown L.A. Some of the other perks were; being able to attend Dodger baseball games and other sporting venues when ever there were extra tickets available.
Update: Ingo's mom was diagnosed with Lou Gehrig s disease in the summer of 2013, "Please keep my mom, and our family in your prayers. Thank you very much "
Lou Gehrig's disease is a disorder that's also called amyotrophic lateral sclerosis (say: ah-my-uh-TRO-fik LA-tuh-rul skluh-RO-sis), or ALS. The official name comes from these Greek words:"a" for without "myo" for muscle
"trophic" for nourishment "lateral" for side (of the spinal cord) "sclerosis" for hardening or scarring So, amyotrophic means that the muscles have lost their nourishment.
When this happens, they become smaller and weaker. Lateral means that the disease affects the sides of the spinal cord, where the nerves that nourish the muscles are located; and sclerosis means that the diseased part of the spinal cord develops hardened or scarred tissue in place of healthy nerves. ALS is often called Lou Gehrig's disease after Lou Gehrig, a hall-of-fame baseball player for the New York Yankees who was diagnosed with ALS in the 1930s To date, there is no cure, but lots of money was raised in the great ice bucket challenge of 2014 for research.
4. Ingo's Aunt, Doris (Dee) Loge Wacker and Uncle, David Loge' Were on the Cover of Life Magazine at the End of WWII
The Berlin Airlift This year marks the 60th anniversary of the Berlin Airlift. The heroic efforts of the United States and her Allies saved more than 2 million men, women and children in Berlin.The Berlin Airlift began on June 26, 1948. The Soviets sealed off the western portion of Berlin controlled by American, British and French forces. In response, the western allies took to the skies and began flying in provisions for West Berlin's 2.2 million residents, an effort that grew into the Berlin Airlift.
In one of the greatest humanitarian actions of all time, American and British aircraft supplied the inhabitants of Berlin with food, fuel and other supplies during the unprecedented Berlin Airlift, which came to be known as "Operation Vittles". At midnight on May 12, 1949, the Soviets reopened land and water routes into Berlin ending the 322-day blockade of Berlin.
Newest class of US Air Force pilots grouped in front of C-47 & C-54 cargo transport planes which they are training to fly during Operation Vittles, the plan to break the Soviet blockade of Berlin, aka the Berlin Airlift. Great Falls, Montana – October 1948 – LIFE Magazine – Photographer: J. R. Eyerman.
Citizens of Berlin ( My Uncle is in the white shirt and shorts there on the right, in-front of the lady, my aunt is behind the man) stand amid rubble near the edge of Tempelhof Airfield to watch an American C-47 cargo plane arrive with food & supplies, part of the Allied effort to counter a Soviet blockade of the city during the Berlin airlift – July 1948 – LIFE Magazine – Photographer: Walter Sanders.
My Uncle David Loge' is in the white shirt with the lederhosen and my aunt Doris (Dee) Davids little sister, is next to him. My mom was at the bottom of the pile looking up and missed her photo opp!
5. Ingo Loved Summers in Michigan With His Grandma and Mr. Jack La Lane!
Summer time when Ingo was younger was spent with his grandparents in both Detroit and then later when they moved to Saint Clair Shores, Michigan. He has great memories of working in the garden, washing the family cars, riding bikes EVERYWHERE (post office, store, fruit market, butcher, the local park and even down to the lake) baking and cooking was a daily activity in the Loge family home. And on given morning, you would often find Ingo and his grandmother Irma watching a small black and white TV in their living room and working out with Jack La Lane and his dog Happy!
Irma, like many grandmothers, had a profound influence on Ingo's life, eating habits, self care and character.Ironically, one of Ingo's very first jobs in the fitness industry way back in 1979, where you could have found him working behind the smoothie bar making protein shakes for the members at a Jack La Lane European Health Spa in Van Nuys, California. Ingo worked for the legendary Win Paris. back then.
He later went on to become a personal trainer at Jack La Lanes. This set the stage for Ingo early on to seek out further education, certifications and knowledge as a wellness educator, that still continues to this day. Summers in Michigan had a profound effect on Ingo!
6. Ingo Almost Wore This Superbowl Ring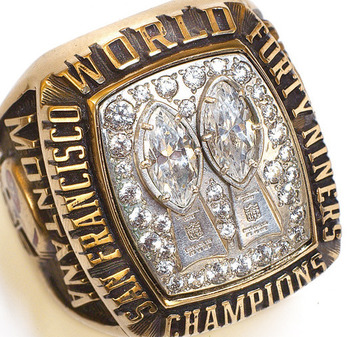 Ingo was so close to being a San Francisco 49er at one point in his life. Ingo attended college at the University of Nevada at Las Vegas back from 1981-1983. Number 83 was second in the nation for the upcoming 1982 season as the teams punter. He was also Randall Cunningham's (former Vikings and Eagles quarterback) wide receiver.
Ingo's dream, like many young men, was to be a professional football player.Back in 1984 Ingo attended Ray Pelfry's punting school in Reno, Nev he was getting ready to try out for the L. A. Rams as a walk on punter. (Bill McPherson) new of him from high school where he came to games when his daughter Joanne was a cheerleader.Bill had recruited Ingo to go to UCLA when he was a coach there… well, many years later, Ingo found out he was the linebacker coach for the 49ers and sent him some of his game films from UNLV . A few days later Ingo got the call of a life time! A chance to come to 49er pre 1985 season training camp and try out.Now here is a little the back story as to why Ingo never made it to the super bowl that year:
About a week before the tryouts in Redwood City, Ingo was helping a friend repair the roof at the place he was staying up in the Santa Cruz Mountains. You already know whats coming don't you… well, as fate or was it destiny would have it, he pulled his back out pretty bad and had very little time to recover. Now if you have ever played any sport you'll know that back pain and punting footballs for the NFL are not good bedfellows and Ingo subsequently had the worst tryout in history. He said it was the most humbling 20 minutes of his life. From a 5.5 hang time average and a 47.8 yard per punt avg. He could barely kick a ball 35 yards, Needless to say, Ingo's life changed that afternoon in Redwood City, California. Ingo went on to study sports medicine and from that point on devoted most of his studies on how to rehab back injuries.
 7. Ingo Has Shared The Stage Americas Top Keynote Speakers.
Ingo is a natural comedian trapped in the body of a 20 year in the trenches fitness and nutrition expert, Ingo is guaranteed to make you laugh.
As a leading expert in alternative health, nutrition, exercise prescription, and wellness, Ingo's fun-loving charismatic spirit brings a very fresh perspective to the often serious subjects of exercise, digestive health, stress management, the foods we eat, when we eat them, our hormonal tides, exercise, growing older and personal health.An articulate and unusually intimate speaker, Ingo has received outstanding reviews for his insightful, evocative and inspiring addresses to both local and national audiences. With boundless energy and a message that invigorates even as it enlightens, Ingo tells it like it is.Each performance is crafted to the audience through extensive consultation and customization and is guaranteed to entertain you with a stunning combination of props, visuals, interaction and outrageous self discoveries.
What Audiences Can ExpectOn stage, Ingo is a blast of energy who will inspire you with specific, fun-filled energy shot strategies that will launch you into action. You will be energized with new ways to enhance personal performance, relationships, bust stress, and to think in new and creative ways when it comes to stress, exercise and eating. There will also be many "AH HA" moments as wisdom's seeps into your soul.With expertise in exercise, physiology, nutrition, holistic health, psychology, NLP, group dynamics, and ergonomics, Ingo explores the mind-body connection in his crusade to bust stress, increase energy, improve self communication, build personal relationships and connect the four doctors that live with in all of us.
"I never though of my self as a very good communicator/speaker, and when I do speak I wonder if I have made an impact on the lives of my audience. In contrast, I really do love listening to other speakers, they always motivate and inspire me, how do they get up there and look so calm and so confident?" People who can discipline themselves to do what they don't like to do live a wholly different type of life than those that don't."
8. Ingo Grew Up a Bit Differently Than Most Boys
Rancho San Antonio
is a non-profit 501 (c) (3) organization accredited by the National Council on Accreditation for Services to Families and Youth. Rancho is a multi-service residential agency serving court-ordered adolescent boys. The primary goal of the agency is to utilize an inter-disciplinary approach to provide opportunity for rehabilitation of the total person through a balanced physical, social, spiritual, psychological, and educational experience.Ingo's teenage years were filled with many challenges and personal difficulties.
In 1975 Ingo's mom couldn't take it any more, so she decided to give up custody of her only son and Ingo became a ward of the court. This meant the state would now assume the responsibility of parenting her rebellious and delinquent son. After numerous work camps, detention centers and juvenile halls, Ingo was finally placed at Rancho San Antonio (Boys Town of the West) in Chatsworth, Ca. This was one of the best things that ever happened to him.
Growing up at "The Ranch" gave Ingo the tools and the male leadership figures that were need to help him grow up.
"Thank you Brother John, Mike Curtis, Mike Haggerty, Phil Broderson, Dave Duran, Herman Edwards, and to the entire Rancho staff for not only saving my life, but giving me the tools, education, praise, responsibilities, interpersonal skills, and the courage to help rebuild it as well.
I always try and stop by "The Ranch" for a visit when I'm in the Chatsworth, Calif. area, and it gives me great joy to still see some of the staff 39 years later still passionate at helping to improve the boys lives"
9. Why Ingo is a Hockey Lover Might Surprise You
Ingo has always had an inner love for th
e game of hockey, yet to this day has never played it, and he cant skate for beans! We liken him to a new born giraffe on skates!
In some strange way, the father Ingo had, but never knew or met had a deep love for the Detroit Red Wings and hockey in general.Guess a few things do get passed on in the gene pool somehow!( Jim Ivy left when he found out Ursie, Ingo's mom, was pregnant. He never returned to see his son and why should he, it was later discovered that he was married at the time of the pregnancy and he had 3 children of his own already. James Ivy Sr. went on to father 7 more in subsequent marriages so if you know this guy or any of his offspring tell them/him Ingo says hello) Ingo has never met any of his 10 half brothers and sisters to this day.)
"Thanks dad I always think of you when I watch a hockey game and wonder if you will ever get out of your own penalty box and say that your sorry to my mom for abandoning her and to me. Also for not introducing me to my 10 half brothers and sisters that I have never met to this day. So, if any one who knows a James A. Ivy Jr. from Detroit Michigan please let him know that he missed out on knowing one amazing man."
10. In a Coma for 18 months, Ingo Coached One of Nevada's Worst Head Trauma Cases to Walk Again!
Two of Ingo's personal training clients Julie And Don Weir owners of Reno Dodge, in Reno, Nevada, asked Ingo if he could help Daniel move better and regain his body functions. The Wiers offered to pay for all Daniel's sessions for a 3 month period, what an amazing gift that was and opportunity as well for them both.
Many members had observed his inability to walk or move well and yet he came to the gym via bus 3X per week all in an attempt to try and learn, how to walk, talk again after being in a coma for almost 2 years.Daniel Lee had no movement on his left side, a leg that dragged behind him like a rag doll. Daniel had no motor control of his arms or fingers either and he shook terribly when he tried to use them.
His speech was very broken and slurred, He was Nevada's worst head trauma case to date and was lucky to be awake and alive after 18 months of being in his coma.
" I could fill up the rest of this page easily but I won't bore you with the details. I still remember that warm summer day when all my clients got together and pitched in to buy Daniel Lee a motorized scooter.
That was a day we'll never forget. The smile on his face said it all. Daniel was going to be mobile, no longer needing to depend on others. he could walk, use his arms and function normally. Daniel was mobile now, he had a way to get around Carson City without having to always depend on the assisted living facility bus. Thank you Daniel for all your inspiration and your never give up attitude!"That tall guy on the left is me!
You Can Click On Either Picture To The Left or the Right Depending
Step 1 Go To: http://www.myrainlife.com/drinktheseeds Click on United States, Then English or you can click on become a customer or become a partner here on this page and it will take you straight to the link on my replicated RAIN Intl Corporate website
Step 2: Make sure my number is there 175386 then click next
Step 3: If You Are becoming a Distributor and part of team legacy I Suggest Starting With a 10 Box Kit, you can't sell from an empty store! You will also need to set up an auto ship profile with a minimum of 1 box of product per month
Step 4: Email us on the contact page here if you have further questions or need clarification on anything.